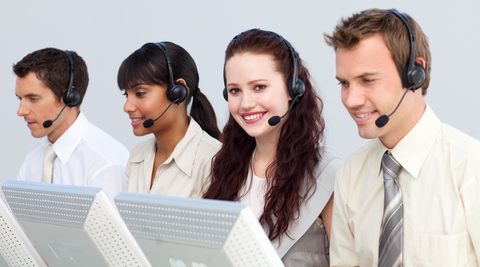 Need To Compare Telemarketing Prices?
If you are considering using telemarketing, shopping around and comparing telemarketing prices is very wise.  Just fill in the form opposite to get quotes from a few local telemarketing agencies.
Why Compare Telemarketing Prices?
Telemarketing companies are plentiful in the UK and all telemarketing agencies charge different costs for telemarketing.  Price comparison is popular for saving time and finding the best prices quickly.
Comparing telemarketing costs is no different to comparing telemarketing prices for car insurance, as long as you are comparing the right telemarketing agencies you can be assured of getting the best deal.
Telemarketing companies all have differing experience based on their client portfolio; and companies that work in high end industries do tend to charge more for telemarketing.  Telemarketing prices are also based on the skills and experience of the staff; if the staff are 'seasoned' sales people (and not fresh out of college) they will be a higher salary and therefore the cost for the telemarketing campaign will be higher.  There are also profit margins to be taken into account – all telemarketing companies are privately owned and thus need to charge profits in order to cover things such as cars, holidays, houses etc.
None of us have hours of spare time to go through 100′s of telemarketing agency websites to find a few that are of interest, then contact each one individually and then try to get quotes.  By using a price comparison site you can do all of this within around 60 seconds – and then get the best telemarketing quotes to compare.
How Do Telemarketing Companies Justify Their Prices
There are (as mentioned) hundreds of telemarketing companies in the UK (over 600 actually) and all charge different rates.  Some telemarketing companies may be startups or have fairly junior staff (school leavers or agents with only 3-4 years of telemarketing experience) and therefore cannot really justify charging hundreds of pounds a day.
Some telemarketing agencies may have very senior level staff who are used to talking to CEO's and top level decision makers and therefore set higher charges for their services.
Depending on what you are looking for will reflect the sort of telemarketing agency that is suited for your calling campaign.
As mentioned, all telemarketing companies are privately owned and therefore are looking at making profit on your campaign in order to fund growth and holiday's etc.  When comparing telemarketing prices, this needs to be kept in mind.
Does Paying More Guarantee Results
Many companies are asking for results driven marketing however the problem with telemarketing (or any sort of marketing) is that the results are dependent on so many external factors.
What your product/service is like
What the cost of the product/service is
What the economics of the sector is like (is it a good time to buy)
What the telemarketing company is like
What the caller is like (the agent actually making the calls)
What the data is like
Some companies feel that if they pay more for a telemarketing campaign, then they will get more/better results.  Paying more money however does not necessarily mean the results will be better, as the results will be dependent on the above factors (many of which are outside of a telemarketing companies control).
Potential Cost Saving Ideas
Telemarketing agencies can handle the full sales cycle, from prospecting and researching a sales lead, to generating an order.  However, businesses do not have to take advantage of the full sales support; some areas can be handled by businesses leaving telemarketing companies to focus on the main areas:
Purchase Of Data – Data is where it all starts, if you provide or supply data yourself, this will save a lot of money.
Researching Data – Finding the contact can take time, so a little research could save money.
E-mailing – If you handle the sending of information, this will leave the telemarketing company to just the calling.
Compare Agencies- All telemarketing companies charge differently, so shopping around could save thousands.
Book The Appointments Yourself – This also gives you more control over the sales process as you have more contact.
Care does need to be given about cutting too close to the bone, finding the cheapest telemarketing solution may not be the best route; cutting to many corners may have detrimental effects.  Likewise passing the whole campaign to the telemarketing company and writing a blank cheque is not wise and will not guarantee good results.  Taking time and planning is wise, consider the advice from the telemarketing company (but bear in mind they want your business and therefore and going to encourage you parting with your hard earned money).
Pricing Structures Offered By Telemarketing Companies
All telemarketing agencies charge on different charging structures based on their setup.
N.B – Be wary of telemarketing companies offering commission only, there are only a couple in the UK that do offer this route and they are very selective on the campaigns they undertake (only the ones that show the best chances of resulting in revenue are considered obviously).  Some commission only telemarketing companies sound great, but do not last long and disappear.
The normal charging structures for telemarketing companies would be:
Cost Per Hour
Cost Per Call
Cost Per Day
Cost Per Week
Cost Per Month
Different telemarketing companies charge based on the above structures, so it is a case of choosing a structure that fits your budget.  Telemarketing needs to be considered as an investment, in the same way has hiring a member of staff, training and developing them over time; telemarketing needs to be considered in the same way.  Telemarketing does not always produce instant results, it can sometimes take time (certainly if the UK market is in recession and markets are slow) so a degree of patience is needed.
If you would like to get a few telemarketing prices together to compare, just fill in the form.
Telesales Information
[popuppress id="6376"]